Are Drivers in Illinois Liable for Car Accidents in Bad Weather?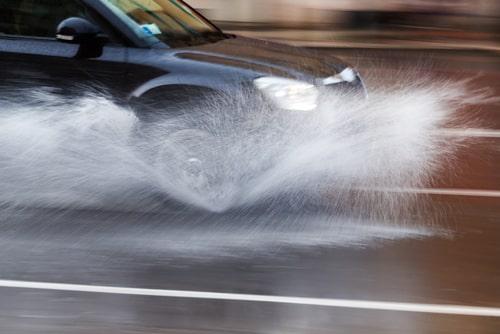 It is still early in the fall, but the Midwest's famous weather events will begin happening more frequently, and Illinois drivers should be prepared. Rain, snow, and sleet reduce visibility and make road conditions much more hazardous, increasing weather-related car accidents. All this may leave Illinois drivers wondering: If a car accident happens that is directly or indirectly caused by bad weather conditions, who is responsible?
Negligence and Bad Weather Conditions
Whether or not a driver is responsible (or "liable," in legal terms) for causing an accident is largely dependent on whether the driver acted negligently. Negligence occurs when someone fails to do something that a reasonably careful person would do - or when someone does something that a reasonably careful person would not do - under similar circumstances. If a driver does not act reasonably in bad weather, they could be held liable for causing a car accident.
But what exactly does "reasonable" mean in this context? Most people would agree that a driver is not obligated to creep along the main thoroughfare at three miles per hour just because the temperature is below freezing, and there may be a small chance of black ice. Despite the inherent difficulty in setting a strict definition as to what might be considered reasonable, courts and juries can make fair decisions based on the relevant facts.
Reasonably careful drivers are generally assumed to employ cautious driving strategies in winter weather. Doing so does not entirely eliminate the possibility of being held liable for an accident, but it can go a long way towards limiting liability.
Careful Winter Driving Strategies
Drivers in Illinois should use an abundance of caution when driving in bad weather. This includes, but is not limited to:
Avoiding distractions, including cell phone use and eating while driving

Keeping car windows free from ice and snow

Clearing the top of the car and preventing snow or ice from blowing onto the road while driving at high speeds

Driving more slowly and giving the car in front more room

Braking slowly and avoiding sudden moves

Always wearing a seat belt
Contact a Cook County Car Accident Attorney
If you have been injured in a car accident in winter weather in Illinois, speak with an experienced Chicago personal injury attorney. At Winters Salzetta O'Brien & Richardson, LLC, we have helped many clients win settlements, including a $2 million settlement for a woman who was rear-ended and killed on the Kennedy Expressway. Schedule a free consultation with one of our attorneys by calling our offices at 312-236-6324.
Source:
https://www.ilga.gov/legislation/ilcs/ilcs4.asp?DocName=073500050HArt%2E+XIII+Pt%2E+2&ActID=2017&ChapterID=56&SeqStart=103700000&SeqEnd=107150000