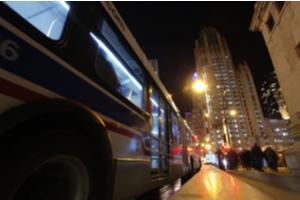 The last few months have brought accidents that resulted in injuries and even death for both CTA and Pace buses. While bus drivers are trained and expected to operate safely, accidents involving buses and other vehicles can still occur. If you have been injured in an accident involving a bus, either as a passenger or when you were in another vehicle, you may be able to seek compensation for your injuries as well as for lost wages, pain and suffering, and other damages.
Causes of Bus Accidents and Compensation Available
Accidents involving transit buses as well as school buses tend to grab the headlines, but many other types of buses are also on the road, including charter buses, shuttle buses, and intercity buses like Greyhound or Megabus. There can be many causes of bus accidents. While causes generally overlap with factors in other motor vehicle crashes, there are a few factors that disproportionately impact buses.
Driver Fatigue – Drivers may be operating on tight schedules over long distances and be vulnerable to fatigue. Fatigued driving increases the risk of a crash and is one of the leading factors in bus accidents.

...