Bus Accidents Involving Injuries are Common in Illinois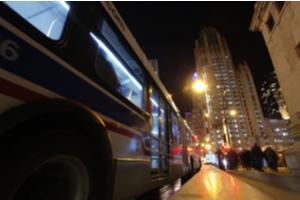 The last few months have brought accidents that resulted in injuries and even death for both CTA and Pace buses. While bus drivers are trained and expected to operate safely, accidents involving buses and other vehicles can still occur. If you have been injured in an accident involving a bus, either as a passenger or when you were in another vehicle, you may be able to seek compensation for your injuries as well as for lost wages, pain and suffering, and other damages.
Causes of Bus Accidents and Compensation Available
Accidents involving transit buses as well as school buses tend to grab the headlines, but many other types of buses are also on the road, including charter buses, shuttle buses, and intercity buses like Greyhound or Megabus. There can be many causes of bus accidents. While causes generally overlap with factors in other motor vehicle crashes, there are a few factors that disproportionately impact buses.
Driver Fatigue – Drivers may be operating on tight schedules over long distances and be vulnerable to fatigue. Fatigued driving increases the risk of a crash and is one of the leading factors in bus accidents.

Faulty bus equipment - If the equipment on a bus is not properly maintained, it can lead to a loss of driver control resulting in a dangerous accident.

Roadway and weather conditions – Buses tend to operate through any weather, but even they can lose control in rain, ice, snow, or other unsafe roadway conditions.

Speeding – Buses that are speeding can cause much greater damage than smaller cars due to their mass.

Distracted Driving – Much like the driver of any vehicle, if a bus driver is distracted they are more likely to cause an accident. Since the driver is often driving a bus full of passengers, the likelihood of an internal distraction is much greater than for the driver of a smaller vehicle.

Driving Under the Influence – Bus drivers operating under the influence of drugs or alcohol pose a great threat to other drivers on the road as well as the passengers they are transporting.

Bus Control Issues – Given that buses are larger and heavier than a typical vehicle, they can be more difficult to operate and maneuver. Even with added safety features, these factors can contribute to an accident.
Given the often-severe nature of an accident involving a bus, injuries are common. Those who have suffered an injury in a bus accident can seek compensation for past and future medical bills, wages from time lost at work as well as future earning potential, pain and suffering, and loss of enjoyment or consortium. In a fatal accident, the relatives of the victim may pursue a wrongful death suit against the responsible party or parties.
Contact a Chicago Bus Accident Lawyer
Accidents involving CTA, Pace, or any other type of bus can have a devastating impact on anyone involved in the crash. If you are looking for answers, turn to the experienced CTA and Pace bus accident attorneys at Winters Salzetta O'Brien & Richardson, LLC. We can gather the details of the accident and maximize the damages that you may be eligible for. Call us today at 312-236-6324 to set up your free initial consultation.
Source:
https://chicago.suntimes.com/2022/4/25/23041482/broadview-bus-crash
https://www.nbcchicago.com/news/local/driver-injured-after-collision-between-vehicle-cta-bus-on-chicagos-far-south-side/2850025/
https://www.fmcsa.dot.gov/safety/data-and-statistics/large-truck-and-bus-crash-facts