Pursuing Compensation for CTA Bus Accidents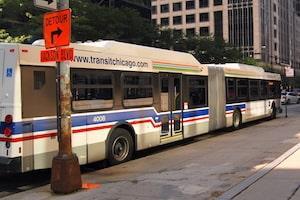 Buses operated by the Chicago Transit Authority (CTA) are a common sight on the city's roads, but while these vehicles provide an essential service, they also create serious risks for drivers, cyclists, and pedestrians. The huge difference in size and weight between buses and cars can result in serious injuries for those involved in a CTA bus accident, and people who have been injured should understand their options for pursuing compensation for their damages.
CTA Bus Accident Statistics
While we expect the CTA to operate its vehicles safely and protect passengers, drivers, and others who use the road, the sobering reality is that CTA buses are regularly involved in motor vehicle collisions. In fact, a 2015 investigation by ABC7 News found that buses are involved in an average of one accident every 36 hours. In addition, a 2017 investigation by the Chicago Sun-Times found that over the previous two years, there were more than 500 CTA bus accidents which resulted in more than 1,000 injuries, five deaths, and a cost to taxpayers of $16 million.
The Personal Impact of Bus Accidents
While the statistics about bus accidents in Chicago can be shocking, it is important to remember that they are not just numbers. Each of these incidents represents someone whose life was drastically affected by a motor vehicle collision. At Winters Salzetta O'Brien & Richardson, LLC, we fight for the rights of those who have been harmed by the negligence of bus drivers or the CTA.
In one notable case, a 19-month-old girl was struck by a CTA bus and killed while playing in her neighborhood. Even though it was a clear day, and the bus driver's view of the street was unobstructed, the driver failed to brake in time when the child entered the street. The driver testified that they were distracted by a passenger who had crossed the yellow line inside the bus to pay their fare, and this not only resulted in a delay in braking, but a failure to perform full-service braking, which would have allowed the bus to come to a stop more quickly. Our attorneys represented the mother of the child who was killed, and we were able to secure a $1.5 million settlement from the CTA.
Contact a Chicago CTA Accident Lawyer
While monetary compensation cannot bring back a loved one who has been killed in a bus accident, it can help a family weather the financial difficulties and emotional pain that they have suffered. If your family has been harmed by the negligence of a bus driver or the CTA, the skilled Cook County personal injury attorneys of Winters Salzetta O'Brien & Richardson, LLC can help you pursue the full and fair compensation you deserve. Contact us at 312-236-6324 to schedule a free consultation.
Sources:
https://chicago.suntimes.com/news/watchdogs-cta-bus-crashes-2-year-toll-5-dead-1000-hurt-16m/
https://abc7chicago.com/news/crash-factor-one-cta-bus-accident-every-36-hours/995542/