Are Drunk Driving Car Accidents More Common During the Holidays?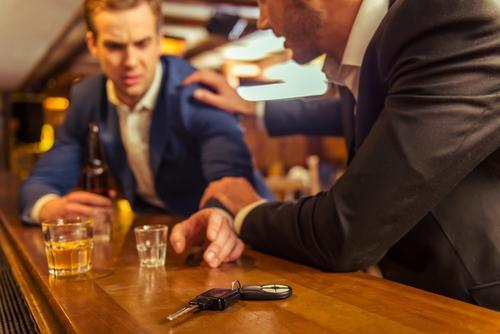 The holiday season can be a wonderful time to enjoy parties and gatherings with friends and family, and the festive atmosphere of joy and cheer is often enhanced by the consumption of alcohol. Unfortunately, some people do not act responsibly during this season, and they may choose to violate the laws against driving under the influence. Drinking and driving can lead to dangerous or fatal car accidents, and victims in these cases may be left struggling to pick up the pieces after a tragedy.
The Dangers of Holiday Drunk Driving
Driving under the influence of alcohol is dangerous at any time of year, but it can be especially deadly during the holidays. During this time, there are often large numbers of vehicles on the roads because people are traveling to spend time with family or because they are taking shopping trips. This increased traffic, when combined with the trickier driving conditions that come with the colder winter weather, can result in very serious motor vehicle collisions.
The increased risk of drunk driving accidents during the holidays has been demonstrated in recent years. The National Highway Traffic Safety Administration (NHTSA) reported that in 2017, 885 people were killed in car accidents involving drunk drivers throughout the month of December. In addition, there were 267 fatalities in drunk driving accidents in the days surrounding Christmas and New Year's Day, and this fatality rate was higher than in any other holiday period in 2017.
Recovering Compensation for Drunk Driving Accident Injuries
The dangers of drunk driving are well-known, and those who choose to get behind the wheel after drinking alcohol or consuming drugs should be held responsible for injuries that occur because of their negligence. Victims who are injured in these types of crashes or the family members of people who are killed by a drunk driver may be able to pursue compensation from that driver through a personal injury lawsuit. The damages in these cases may include expenses related to medical treatment for the injuries suffered, income lost if a person was unable to work while recovering, and the physical and emotional pain and suffering experienced by victims and their family members.
In addition to pursuing a lawsuit against a drunk driver, it may also be possible under the Illinois Dram Shop Act to hold a vendor responsible for selling or serving alcohol to a person who went on to drink and drive. For example, a victim may pursue compensation from a bar or restaurant if a person became intoxicated at that establishment and then got behind the wheel and caused an accident.
Contact a Cook County Car Accident Attorney
If you have been injured by a drunk driver, or if your family member has been killed by someone who was driving while intoxicated by alcohol or drugs, the attorneys of Winters Salzetta O'Brien & Richardson, LLC can help you understand your options for recovering compensation from the parties who were responsible. In most cases, personal injury claims must be made within two years of the injury, but a lawsuit under the Illinois Dram Shop Act must be filed within one year. To ensure that you are able to pursue the compensation you deserve, you should contact our Chicago personal injury lawyers as soon as possible. Call our office at 312-236-6324 to arrange a free consultation today.
Sources:
https://www.trafficsafetymarketing.gov/get-materials/drunk-driving/buzzed-driving-drunk-driving/holiday-season
http://www.ilga.gov/legislation/ilcs/fulltext.asp?DocName=023500050K6-21