Can a Driver Be Held Liable for a Car Accident in Winter Weather?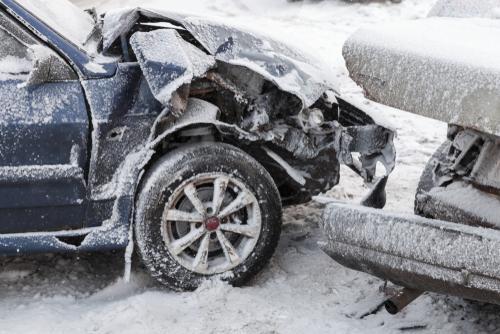 Every year, Chicagoans brace themselves for the bitter cold, strong winds, and snowy and icy conditions that they must deal with during the winter months. As the temperature begins to drop, and we start to experience inclement weather, one concern that is on many people's minds is the increased possibility of car accidents. Drivers will want to take additional care to protect their safety during winter weather, and those who are injured in a collision should be sure to understand the forms of driver negligence that may have led to their auto accident.
Safety Measures When Driving in the Winter
It can be very easy to lose control of one's vehicle during winter weather. To reduce the likelihood of a collision, drivers should do the following:
Perform proper vehicle maintenance - Drivers should ensure that all of their car's safety systems are in working order. If tires are worn or bald, this can reduce traction, causing a vehicle to slide out of control when stopping or turning. Burnt-out headlights can reduce a vehicle's visibility, and if windshield wipers or defrosters are not working properly, a driver may be unable to fully see the road around them. Failure to keep a vehicle maintained may be considered a form of negligence on the part of a driver.

Reduce speed and follow traffic laws - Snow and ice on the roads can greatly increase the risk of a driver losing control of their vehicle. To compensate for this, drivers should avoid speeding and allow for more distance to slow down and come to a stop. Aggressive or reckless driving becomes much more dangerous in inclement weather, and when drivers violate the law by tailgating, making illegal lane changes, or failing to respect other vehicles' right of way, these actions can result in motor vehicle collisions and serious injuries.

Avoid risky driving behaviors - Due to the increased risks that come with driving in the winter, drivers should take extra care to pay close attention to the road. Distracted driving and drunk driving can be especially dangerous in snowy or icy weather, and in addition to facing criminal charges, drivers who commit these violations may be held responsible for injuries caused to others.
Contact a Cook County Car Accident Lawyer
If you have been injured in a motor vehicle collision that took place in the winter, you should work with an attorney who is experienced in recovering compensation in these types of cases. At Winters Salzetta O'Brien & Richardson, LLC, we have helped numerous clients obtain multi-million dollar verdicts and settlements, including a $3.25 million settlement in the case of a woman who was killed after being rear-ended on an Interstate expressway. To schedule a free consultation and learn more about how we can help you recover compensation that fully addresses your damages, contact our Chicago personal injury attorneys today at 312-236-6324.
Sources:
https://www.nhtsa.gov/winter-driving-tips
http://www.idot.illinois.gov/home/winter-driving-tips