Can I Recover Compensation for a Slip and Fall Injury on Snow or Ice?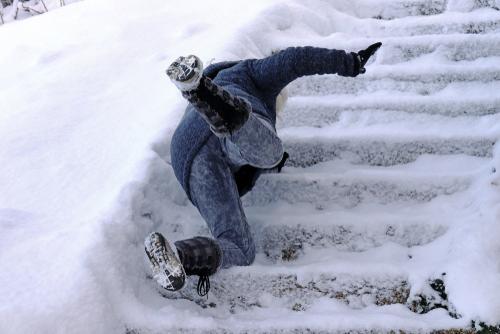 As the temperature drops in the Chicago area, people are beginning to prepare for winter conditions, including snow and ice that may be present on roads, sidewalks, and other walkways. These conditions can significantly increase the risk of a slip and fall accident, and when injuries occur, victims may be unsure about their legal options. In these cases, it is important to understand how Illinois' premises liability laws apply to a situation, and an experienced personal injury attorney can help determine whether a property owner may be held liable.
Slip and Fall Accident Injuries
While losing one's footing and falling down is often seen as a minor incident, these types of incidents can result in serious injuries that have long-term effects, especially when snow or ice are involved. During cold weather, surfaces are very unforgiving, and a fall can lead to injuries such as:
Broken bones

Dislocated or sprained joints

Torn ligaments in the knees, shoulders, elbows, or wrists

Traumatic brain injuries

Spine injuries

Neck injuries, including whiplash
Even if injuries are seemingly minor, they can worsen over time and have a significant effect on a person's health and well-being. In addition to immediate medical treatment, a victim may require physical therapy, pain medication, or other forms of long-term care. If an injury affects a person's ability to work, it may lead to a loss of income during the period of recovery. To address the damages resulting from a slip and fall injury, a victim will want to determine who was at fault and the options for holding a negligent party liable.
Illinois Liability Laws Regarding Snow and Ice
Property owners are required to maintain a safe premises and protect visitors from harm. Failure to do so may be considered negligence, and a property owner may be liable for injuries that occur as a result. However, Illinois law states that property owners are not responsible for injuries that occur because of "natural accumulations" of snow or ice. To hold a property owner liable, a victim will typically need to show that their injury occurred because of an "unnatural accumulation" of ice or snow.
Natural accumulations of snow or ice generally include anything that occurs because of normal weather. For example, a property owner will typically not be responsible if a person slipped and fell on a sidewalk because of snow that fell during a snowstorm. However, a property owner may be liable if ice or snow built up unnaturally due to conditions on the property. For instance, if a parking lot was not properly maintained, causing ice to build up on surfaces where people would be walking, it may be possible to hold the property owner responsible for slip and fall injuries that occur because of this negligent maintenance.
Contact a Chicago Slip and Fall Accident Attorney
Determining whether a property owner is liable for slip and fall injuries can be a complex matter. At Winters Salzetta O'Brien & Richardson, LLC, we have a record of success helping injury victims recover compensation. In one successful case, we obtained a $610,657 verdict for a woman who was injured after a slip and fall on ice at her apartment complex. To arrange a free consultation and learn how we can help you pursue compensation for a fall injury, contact our Cook County premises liability lawyers today by calling 312-236-6324.
Sources:
http://www.ilga.gov/legislation/ilcs/ilcs3.asp?ActID=2048&ChapterID=57
https://courts.illinois.gov/CircuitCourt/CivilJuryInstructions/125.00.pdf