Can Vaping Marijuana Make Me Sick?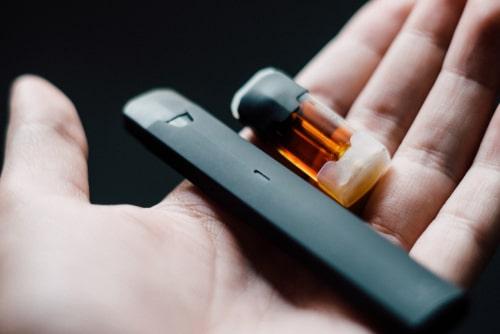 Smoking cigarettes used to be ubiquitous. Virtually everybody smoked - even in places we now find ridiculous, like hospitals and airplanes. Then research proved the seriously detrimental effects of smoking tobacco, and although some people still smoke cigarettes today, the risks are well established.
However, in recent years, electronic cigarettes (also known as vape pens or e-cigarettes) have skyrocketed in popularity. With the advent of legal recreational marijuana in states like Illinois, the use of vaping products is a large part of marijuana culture. Many people believe that vape pens are safer than traditional methods of smoking marijuana and that they face little or no risks from vaping. New research shows this is not the case and that consumers may face serious risks from the contents of vape pens, as well as from defective products.
Vaping Causes Lung Illness
Corresponding with the increased use of vaping products, a new phenomenon known as "e-cigarette or vaping product use-associated lung injury," or EVALI, has arisen. Victims of this health problem report symptoms such as chest pain, shortness of breath, fatigue, coughing, and other concerning respiratory issues. Thousands of cases have been reported, and people have even died. Most reported EVALI cases come from people who vape marijuana products.
Governmental agencies tasked with assessing the safety of consumer products have identified a potential cause of this lung illness: Vitamin E acetate. Vitamin E acetate is not necessarily harmful when it is eaten or applied to the skin in various beauty products, but it can be dangerous when inhaled. It seems to form an oily, sticky substance that sticks to lung tissue, preventing proper lung functioning. It is commonly found as an additive in e-cigarettes and other vaping products because it acts as a thickening agent to make cartridges last longer.
People who vape are also potentially at risk from malfunctioning vape pens, which have caught fire and even exploded. Furthermore, vapes are not a fail-safe way to prevent addiction or usage of normal cigarettes. In fact, the research shows that those who begin vaping at a young age are actually more likely to eventually smoke cigarettes than those who never vaped.
Speak with a Chicago Personal Injury Attorney
Although many believe vaping is a safe way to imbibe substances like THC, CBD, or nicotine, the latest research suggests that vaping can have serious health consequences. If you have been injured or become sick after using an electronic vaporizer, consider speaking with a Cook County product liability attorney with [[Title]]. We can schedule a free consultation to speak with you and explore your options. Call us today at [[Phone]].
Sources:
https://www.healthline.com/health-news/is-vaping-like-toxic-inhalation-exactly-why-e-cigs-are-bad-for-your-health
https://www.cdc.gov/tobacco/basic_information/e-cigarettes/severe-lung-disease.html
https://www.healthline.com/health/vaping-vs-smoking-weed#risks