Commercial Truck Crashes Caused by Overloading and Improper Loading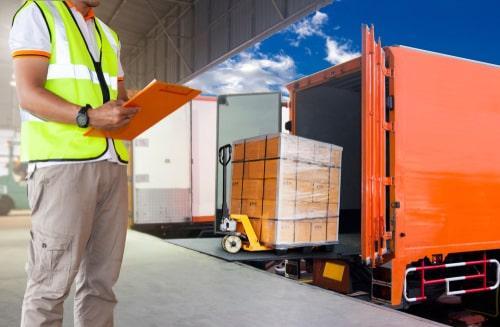 Semitrucks, flatbeds, and other commercial trucks haul cargo across the country. There is no doubt that trucks are vitally important, but these massive vehicles can also be extremely dangerous. When truck cargo is not loaded correctly, it can increase the chances of a truck accident. Cargo may move around within the truck's trailer, making it hard for the driver to control the truck. Shifting cargo can even cause the truck to tip over. Freight that is not strapped down well enough can also fall out of the truck and onto the road where it becomes a deadly hazard to other motorists.
If you or a loved one were involved in an auto accident due to improperly loaded and secured truck cargo, you may be able to take legal action against the trucking company or other at-fault party. You could be entitled to financial compensation for vehicle damage, medical expenses, lost income, and more.
Accidents Caused by Improper Loading and Securement of Truck Cargo
Inadequately secured cargo, unbalanced loads, and overloaded trucks pose such a threat that the Federal Motor Carrier Safety Administration has instituted specific cargo securement rules. Truck cargo must be secured well enough to withstand 0.8 g deceleration in the forward direction, 0.5 g acceleration in the rearward direction, and 0.5 g acceleration in a lateral direction. Tiedowns must be used to ensure that cargo cannot loosen or release during transit. Additionally, the weight must be distributed evenly on the truck and not surpass the gross vehicle weight rating (GVWR). Unfortunately, some truck drivers and trucking companies disregard these important rules either accidentally or intentionally.
Truck Crash Injury Claims Involving Incorrect Loading
Cargo that is not loaded and secured correctly can lead to severe, injury-causing accidents. Victims of commercial truck accidents may be able to recover compensation for their damages through a truck accident injury claim. They could be reimbursed for financial losses including:
Ambulance fees

Emergency room and hospital bills

Ongoing medical expenses such as prescription pain medication or physical therapy costs

Lost wages from the time the victim had to take off of work

Lost earning capacity caused by severe, long-term injuries and disabilities
Additionally, individuals harmed in a truck accident may be entitled to compensation for intangible consequences of the crash such as pain, mental and emotional suffering, disfigurement caused by their injuries, and lost quality of life.
Contact a Chicago Truck Accident Lawyer
If you or a loved one were involved in a commercial truck crash, contact Winters Salzetta O'Brien & Richardson, LLC. Our Chicago personal injury attorneys can advocate on your behalf and help you seek maximum financial compensation. Call our office at 312-236-6324 for a free consultation.
Sources:
https://www.ntea.com/NTEA/NTEA/Member_benefits/Technical_resources/Understanding_the_consequences_of_driving_overloaded_vehicles_whitepaper.aspx
https://www.fmcsa.dot.gov/regulations/cargo-securement/cargo-securement-rules