Dangerous Britax Stroller May Have Injured Parents and Children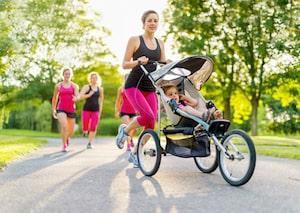 Parents often assume that the products intended for use by their children are safe. Unfortunately, this is not always the case, and there are many situations in which companies put profits ahead of consumer safety and release defective or dangerous products to the market. This was demonstrated recently when news stories broke about a jogging stroller that had caused injuries to parents and children.
Injuries When Using the Britax BOB Jogging Stroller
The BOB jogging stroller produced by Britax is intended to keep children safe and secure when parents are using it to run on sidewalks, streets, or even dirt paths. This three-wheeled stroller, which typically costs between $400 and $600, appears to be rugged and sturdy. However, hundreds of reports were sent to the Consumer Product Safety Commission (CPSC) between 2012 and 2018 stating that the front wheel of the stroller could suddenly become detached. When moving at high speeds, the strollers could then flip over, causing serious or life-threatening injuries to both children and parents. Some of the reported injuries included broken bones and teeth, torn ligaments, and severe lacerations.
In 2017, the CPSC requested that Britax voluntarily recall these strollers, but the company refused to do so. Even though the quick-release lever used to secure the wheels to the strollers was prone to cause these wheels to detach, the company claimed that the product was completely safe when used correctly because it had passed all safety tests. While the company ultimately took steps to address the issue in later models of the stroller and put out information intended to help owners use the strollers safely, there are still nearly 500,000 strollers which may be unsafe in American homes.
Contact Our Chicago Defective Product Lawyers
At Winters Salzetta O'Brien & Richardson, LLC, our lawyers are experienced in holding negligent companies responsible for injuries caused by defective products. In one notable case, we obtained a $1 million settlement for a man who experienced internal injuries after a bicycle seat broke under his weight and cut into his groin.
Our experience investigating the causes of injuries, obtaining evidence showing the negligence of product manufacturers, and securing compensation for our clients demonstrates that we can provide you with the representation you need in a product liability lawsuit. If you or a member of your family have been injured by a dangerous stroller or other product, we will work with you to secure the compensation you deserve that fully addresses the damages you have suffered. To arrange a free consultation with our Cook County product liability attorneys, contact us at 312-236-6324.
Sources:
https://www.dailyherald.com/business/20190403/how-britaxs-bob-jogging-stroller-was-kept-from-recall-by-trump-appointees
https://www.fastcompany.com/90328788/britax-refused-to-recall-a-stroller-that-injured-babies-report
https://investorplace.com/2019/04/britax-jogging-stroller-recall-2019/