Drive Safely in Illinois Construction Zones to Protect Workers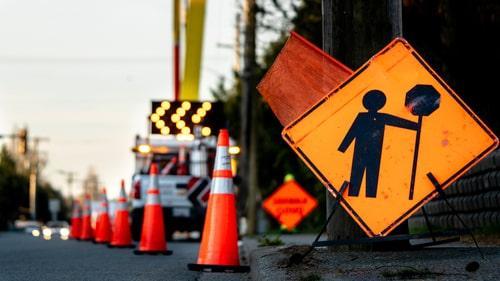 As the weather warms up, Illinois's construction season is in full swing. Whether on an area expressway or your local road, it is essential to drive with caution when you are in a construction zone. Narrow lanes, uneven surfaces, and vehicles entering the roadway can contribute to accidents and put construction workers at risk of injury.
Safety Tips for Construction Zones
Pay attention – Warning signs ahead of construction zones will provide advanced notice for traffic shifts, lane closures, roadway incidents, and other warnings.

Slow down if workers are present or not – It's the law to reduce your speed in construction zones and keep a safe distance from the vehicle ahead of you. The lanes in construction zones are often narrower than other lanes, and traffic patterns can shift. There can also be uneven pavement in sections between or in the middle of lanes.

Watch for workers – Construction zone workers will wear high visibility orange and yellow safety clothing and helmets. If you speed or hit a worker in a construction zone, you will be paying a high price. The minimum penalty for speeding in a construction zone is $250 for the first offense and $750 for a second offense. If you hit a worker, you could be fined up to $25,000 and sentenced to up to 14 years in jail.

Move over for flashing lights – All road users must slow down and move over for any vehicle with its hazard lights on, including emergency vehicles, maintenance vehicles, and construction vehicles.

No handheld devices – Using a hand-held device, including a phone, is illegal at any time in Illinois. It can be especially dangerous while driving through a construction zone. It is better to keep your eyes on the road.

Keep a safe distance – Rear-end collisions are common in construction zones, so keep a safe distance from the vehicle ahead of you.

Stay in your vehicle if you must stop – If you are in a minor accident or must pull over in a construction zone, stay in your vehicle and call *999 for non-emergency assistance.
Call a Chicago Construction Zone Injury Lawyer
If you have been injured in an accident in a construction zone, whether you are another driver or a construction worker, call the Cook County motor vehicle accident attorneys of Winters Salzetta O'Brien & Richardson, LLC. We can help you seek compensation for damages, injuries, lost wages, and more. Call our office at 312-236-6324 to schedule your free consultation today.
Source:
https://www.illinoistollway.com/projects/work-zone-safety