Falls Are the Leading Cause of Death in Construction Accidents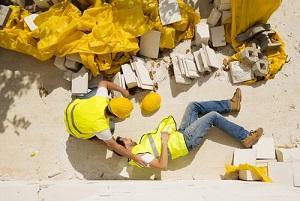 Everyone expects and deserves to be safe while they are at work. Unfortunately, some occupations are more dangerous than others, and many workers accept some level of risk as part of their day to day job. Those who work in the construction industry are particularly in danger of being injured while on the job, with fall injuries being especially common and dangerous. Workers should be aware of the risks of construction site accidents and the steps they should take after being injured to ensure they receive the proper financial compensation.
Construction Site Fall Injury Prevention
Falls at construction sites often result in serious and fatal injuries for workers, and many of these accidents are preventable. According to data provided by the Bureau of Labor Statistics (BLS), falls accounted for 370 of 991 total construction accident deaths in 2016. These include falls from a roof, to a lower level, from a vehicle or construction equipment, or from ladders or scaffolding.
Occupational Safety and Health Administration (OSHA) regulations are meant to ensure that construction workers are safe from fall injuries. Employers and subcontractors are required to assess hazards in the workplace, take steps to prevent fall hazards, provide workers with fall protection equipment (such as guardrails, safety nets, and safety harnesses), and ensure that workers are properly trained in using this equipment.
Construction workers who are injured in a fall are eligible to receive workers' compensation benefits that will cover the costs of medical treatment and rehabilitation, as well as disability benefits that address the loss of income they experience because they are unable to work while they are recovering. In addition, an injured worker or the family of a worker who died in a fall accident may be able to recover compensation through a lawsuit against a third party that was fully or partially liable for the injury, such as the manufacturer of a defective lift, ladder, scaffold, or safety harness.
Contact a Cook County Construction Accident Lawyer
At Winters Salzetta O'Brien & Richardson, LLC, we work to protect the rights of construction workers who are injured while on the job, and we have extensive experience helping them obtain the compensation they deserve. In one notable case, we obtained a $3.32 million verdict for the family of a worker who was killed in a fall at a residential construction site in which the general contractor failed to maintain a proper safety program and take steps to prevent fall hazards.
If you have been injured in a construction site fall accident, contact our skilled DuPage County workplace injury attorneys today. Call our office at 312-236-6324 to arrange a free consultation.
Sources:
https://www.cdc.gov/niosh/construction/infographics.html
https://www.cdc.gov/niosh/topics/falls/default.html
https://www.osha.gov/dte/grant_materials/fy11/sh-22230-11/FallHazardManual.pdf