How to Prevent Accidents and Injuries to Workers in Construction Zones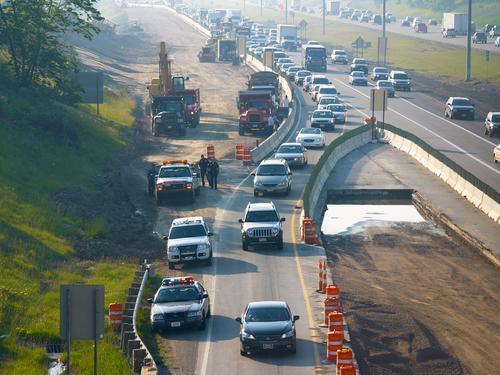 Construction zones are a familiar sight on the roads in Illinois, and most people are aware of the need to take extra care when driving through work areas. However, many drivers fail to follow the proper roadway safety rules, and when car accidents occur in construction zones, workers are likely to be seriously injured. These types of accidents occur all too frequently. In fact, the Illinois Department of Transportation (IDOT) reports that on average, more than 5,000 accidents occur every year in work zones throughout the state. These accidents lead to more than 1,500 injuries on an annual basis.
Construction Zone Safety Tips
Drivers can face severe penalties if they do not obey the law in a work zone. Striking a worker in a construction zone can result in fines up to $10,000 and a prison sentence of up to 14 years. In order to avoid construction zone accidents, drivers should take the following safety precautions:
Slow down - Work zones typically have reduced speed limits, and drivers can face increased fines for speeding. By reducing their speed, drivers can be prepared for sudden slowdowns in traffic or other dangerous conditions on the road.

Avoid distractions - Taking one's attention off the road can be dangerous at any time, but it can be especially deadly in a construction zone, where lanes are often narrow, traffic patterns may shift unexpectedly, and pavement may be uneven. Drivers should avoid talking or texting on cell phones or other electronic devices and pay close attention to what is happening on the road around them.

Do not tailgate - Drivers can avoid rear-end collisions by following other vehicles at a safe distance. This will allow them to be prepared for sudden stops that may occur if an object or person is in the roadway.

Move over when possible - Drivers should slow down and change lanes when they approach any vehicle that has its hazard lights on. They should also give construction equipment and construction workers as much room as possible. Passing too closely could result in a crash if a person or vehicle moves unexpectedly.
Contact a Chicago Construction Zone Injury Attorney
If you have been injured in a motor vehicle accident which occurred in a work zone, the attorneys of Winters Salzetta O'Brien & Richardson, LLC can help you recover compensation from the party or parties who were responsible. We have obtained multi-million dollar verdicts and settlements for many clients in car accident injury cases, including a $1.85 million settlement for an IDOT worker who was injured when he was struck by a tractor-trailer truck while operating a mowing tractor. To learn more about how we can help you obtain compensation for your injuries, contact our Cook County car accident lawyers at 312-236-6324 to schedule a free consultation.
Sources:
http://idot.illinois.gov/Assets/uploads/files/Transportation-System/Safety/work-zone-fact-sheet-2019.pdf
https://www.illinoistollway.com/projects/work-zone-safety
https://www.journal-topics.com/articles/driver-faces-several-charges-after-construction-worker-struck-near-rosemont/