Know the Injury Risk from Ladders, Scaffolding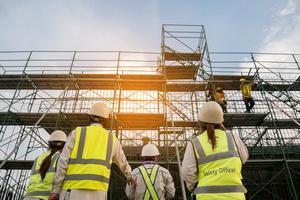 When working on a construction site, ladders and scaffolding are an unavoidable presence. While they allow construction workers, painters, roofers, and countless other workers to perform their jobs, they can also present a danger if not erected or maintained properly. Thousands of injuries every year are caused by falls, collapses, or other related accidents.
Common Causes of Scaffolding or Ladder Injuries
Workers who regularly use ladders or scaffolding know the risks they take when using them as part of their job. However, there are some circumstances beyond their control that can cause injuries and even death. Here are some of the most common causes of scaffold or ladder accidents:
Wet or slippery walkways causing slips and falls

Missing guardrails leading to falls

Objects falling from the adjacent structure or scaffolding above

Objects placed on the walkway or parts incorrectly assembled causing trips and falls

Wind and other inclement weather which can blow workers off the structure, blow the structure over, or cause objects to fall onto workers below

Collapse due to weight or incorrect assembly

Electrocution caused by scaffolding or ladders set too close to power lines
Common Injuries from Scaffolding or Ladder Accidents
Falls from scaffolding and ladders can cause serious and even fatal injuries. The most common injuries to workers include broken bones, spinal cord injuries, traumatic brain injuries, internal injuries including damaged organs and internal bleeding, and severe cuts and bruises. Workers are not the only ones at risk if a ladder or scaffolding is not constructed or maintained properly. Anyone who walks under or near the site can be put at risk.
Proper assembly, training, and inspections are key to avoiding the known dangers of scaffolding and ladders. The Occupational Safety and Health Administration (OSHA) has set safety standards to follow to protect workers and others from falls, falling material, and other accidents that could cause injuries. Our workers' compensation attorneys can help you pursue a claim. In some cases, the manufacturer of the ladder or scaffolding or the contractor who erected the scaffolding can also be held liable.
Contact a Chicago Scaffolding and Ladder Accident Attorney
If you or a loved one has been injured in a fall or other accident involving ladders or scaffolding, you deserve to have a trusted attorney fighting by your side. At Winters Salzetta O'Brien & Richardson, LLC we know how large an impact workplace injuries can have on your life and will work hard to ensure you receive full compensation for your accident. Our Chicago workers' compensation attorneys offer free consultations and will travel to wherever is most convenient to meet with you. Call 312-236-6324 today to discuss your case.
Sources:
https://www.osha.gov/fall-protection
https://www.ilga.gov/legislation/ilcs/ilcs4.asp?DocName=073500050HArt%2E+XIII+Pt%2E+2&ActID=2017&ChapterID=56&SeqStart=102300000&SeqEnd=105700000