Liability and Potential Damages in a Scaffolding Accident Case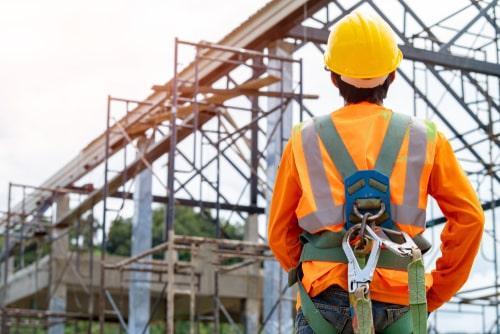 In 2018, an Illinois scaffolding accident caught on camera made the rounds on YouTube and other social media. The video showed just how quickly scaffolding can come crashing down. Working in construction is one of the most dangerous occupations in the United States. Scaffolding accidents are just one of the potential hazards workers and bystanders must be vigilant about.
If you or someone you love has been injured in a scaffolding accident, it is important to know that you may be entitled to compensation for your injuries and damages. An experienced personal injury attorney can help you understand your rights and options under the law.
Liability in Scaffolding Accidents
There are many potentially liable parties in a scaffolding accident. The property owner may be held liable if they were aware of the dangerous conditions of the scaffolding and did not take steps to remedy the situation. The general contractor may also be held liable if they were aware of the dangerous condition and did not take steps to fix it or protect workers and bystanders. The company that manufactured the scaffolding may also be held liable if the scaffolding was defectively designed or manufactured. In some cases, more than one party may be held liable for a scaffolding accident.
In Illinois, workers' compensation is no-fault, so fault rarely matters in a workers' compensation case. A construction worker injured in a scaffolding case may be entitled to damages through workers' comp, regardless of who was at fault for the accident.
Potential Damages in a Scaffolding Accident Case
The damages available in a scaffolding accident case will depend on the facts and circumstances of the particular case. Workers' compensation generally provides compensation for medical expenses and a portion of lost wages. If the worker is permanently disabled, they may also be entitled to additional benefits.
In a personal injury lawsuit, the injured victim may be able to sue a third party and recover damages for their medical expenses, pain and suffering, lost wages, and more.
Contact a Chicago Construction Accident Lawyer
At Winters Salzetta O'Brien & Richardson, LLC, our experienced Chicago scaffolding injury lawyers have represented many injured workers and their families in construction accident cases. We understand the complex issues involved in these cases, and we know how to advocate fiercely on our clients' behalf. Contact us today at 312-236-6324 for a free consultation.
Source:
https://www.wifr.com/content/news/Strong-winds-cause-scaffolding-collapse-at-Amerock-Building-475839233.html