Medical Neglect in Nursing Homes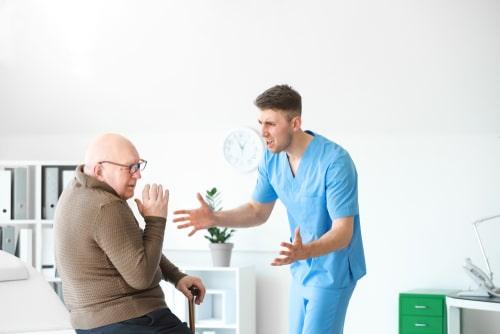 When you place your loved one in a nursing home, you put your family member's care into the hands of trained staff. You probably do not realize that 95% of nursing home residents are neglected or have witnessed another resident being neglected.
If your loved one suffered injuries, discuss your options with Chicago nursing home law attorneys immediately.
Types of Medical Neglect
Anyone who is responsible for a nursing home resident's care may fail to provide basic needs to that person, resulting in neglect.
Common types of medical neglect include:
Failure to provide water or to assist residents in using the bathroom
Elderly people require more water intake than younger people. An elderly person is more prone to health complications if not properly hydrated.
An elderly person is more likely not to consume enough water if the individual has to wait for a person to help them to the bathroom. While a resident may feel dehydrated, he or she is less inclined to drink water if there is a fear of not making it to the bathroom in time.
Failure to supervise a resident
Nursing home residents need assistance when performing regular activities, like walking, bathing, using the toilet, and getting in and out of bed.
Residents should be checked on frequently. Supervision of residents is key to keeping a facility a safe place to live. Some residents are more likely to wander off and need to be watched closely. Others may be bedridden and need to be regularly turned to avoid getting bedsores.
One in four elderly persons in the United States fall each year, with 1.8 million seniors requiring emergency care. Residents who are considered a "fall risk" should be assisted when attempting to stand up from a seat and when walking around. These residents will most likely need help in the shower and when using the restroom.
Malnutrition of residents
It is crucial that staff not only provide a nursing home resident with food but also monitor the resident's food intake. While nourishing ourselves is important, lack of appetite may be an indication of a more serious problem, such as depression.
Reasons for Nursing Home Neglect
Nursing home neglect may have any of the following, or a combination of, the following causes:
Understaffing
An estimated 87% of nursing home facilities are facing moderate to severe staffing shortages, with 48% facing a high level of staffing shortages. As a result, nursing aides are required to oversee the care of more residents than ever before, sometimes up to 25 patients on a given shift.
Unrealistic expectations
The role of care staff can be physically daunting, so a nursing aide can easily get fatigued having to care for more patients than ever before. With extreme physical demands, nursing aides are more likely to hurt themselves and be unable to work, further increasing the problem of resident neglect.
Labor Costs
With a lack of revenue and increased expenses, a care facility may be unable to keep its doors open. Many care facilities are being sold to private equity firms. These private equity firms focus on increasing profits and keeping costs down. To accomplish these goals, a private equity firm may cut nursing staff, amenities, and even medical services while increasing the number of beds that are filled.
It is estimated that about 11% of nursing home facilities are owned by private equity firms. With staff at a scarcity and occupancy rates skyrocketing, medication errors and other forms of medical neglect are becoming commonplace.
If you believe that your loved one has been the victim of nursing home neglect, a Chicago nursing home law attorney will be able to investigate and uncover the truth.
A Chicago, IL, Nursing Home Law Attorney Seeking Justice
Finding evidence to prove medical neglect in a nursing home is not easy. Nursing home administrators will do everything within their power to hide the truth. If you believe that a family member has fallen ill or died due to neglect, contact Winters Salzetta O'Brien & Richardson, LLC today online or at 312-236-6324. Our Chicago, IL, nursing home lawyers offer free, no-obligation consultations.