Nursing Home Patients Without Proper Feeding Protocols Can Choke and Die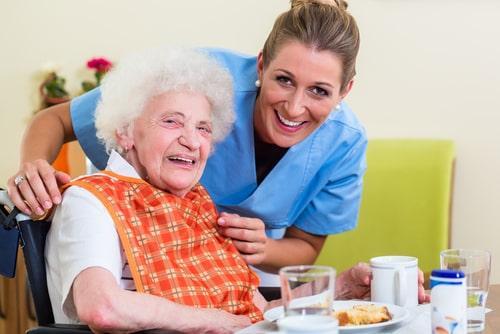 While elderly or disabled residents of nursing homes are more likely to suffer risks of aging and decreased mental faculties, not all of these risks are inevitable. One common but avoidable danger to nursing home residents is choking on food and drinks. Nursing home residents should not be choking on their food and drinks; nursing homes are responsible for assessing whether a resident is at risk of choking and providing a diet and administrative method that allows that person to eat and drink safely. If you have a family member in an Illinois nursing home who has choked and died, the nursing home may have been negligent in caring for your loved one.
Choking is a Leading Cause of Death in Nursing Homes
Dysphagia, or difficulty swallowing, is a condition that affects a significant number of elderly adults. Victims of Alzheimer's and Parkinson's disease are more likely to suffer from dysphagia, as are patients who have had a stroke and patients who are old enough that they are suffering from muscle degeneration.
Dysphagia can make nursing home residents more likely to suffer from other issues as well, including malnutrition, pneumonia, and death. Nursing homes know that patients suffering from dysphagia are more likely to choke on food and drink and must provide the assistance that patients need to eat safely.
Sometimes, this includes feeding residents by hand or making sure residents always take a sip of water between bites; sometimes, it involves using a food tube to eliminate the risk of choking entirely. If residents can feed themselves, nursing homes should ensure their food is of a safe consistency and provide monitoring during mealtimes.
Nursing homes often bill Medicare for the increased compensation they get for patients who require eating assistance but understaffing and overworking often mean residents are not being properly monitored or provided with the help they need. This leads to needless choking incidents. If a patient is choking and staff does not take immediate action, or if staff is improperly trained to respond to choking, permanent brain damage and death can rapidly occur.
Contact a Chicago, IL Nursing Home Choking Death Lawyer
Finding out about the sudden death of your loved one from a preventable cause can provoke feelings of anger and frustration, on top of the grief and loss that is inherent in losing a family member. To learn more about whether you can take action against the nursing home, schedule a free consultation with the Illinois nursing home injury attorneys at Winters Salzetta O'Brien & Richardson, LLC. We have an established history of successfully pursuing compensation in personal injury cases and will fight to make sure you get the representation you need. Call us today at 312-236-6324.
Source:
https://www.ilga.gov/legislation/ilcs/ilcs5.asp?ActID=1225&ChapterID=21
https://www.mayoclinicproceedings.org/article/S0025-6196(20)30902-2/fulltext