Recognizing and Addressing Nursing Home Neglect of an Elderly Person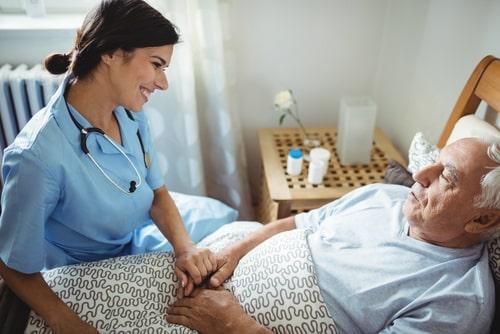 The Illinois Nursing Home Care Act defines nursing home neglect as "failure to provide or intentionally withholding "adequate medical care, mental health treatment, psychiatric rehabilitation, personal care, or assistance with activities of daily living."
Nursing home neglect is a serious problem that can result in physical and psychological injuries or even death. Everyone with an elderly loved one living in a nursing home should be vigilant for signs of nursing home neglect.
Red Flags of Neglect in an Illinois Nursing Home
Nursing homes are legally obligated to provide a reasonable level of care to residents. However, not every nursing home meets this standard. Signs of nursing home neglect can include:
Missed doses of medication

Sudden weight loss or gain

Dehydration

Bedsores

Unsanitary living conditions

Unkempt appearance

Lack of social interaction

Depression or withdrawal

Fear of staff members
If you notice any of these signs in your elderly loved one, it is important to take action. You should first try to talk to the nursing home staff about your concerns. If the staff does not take your concerns seriously or if the situation does not improve, you may need to take your loved one someplace safe and then contact an experienced Illinois nursing home neglect lawyer.
How to File a Legal Claim Against a Negligent Nursing Home
Sometimes, nursing home neglect escalates to a point that a resident is seriously injured or even killed by the substandard care. A nursing home injury claim may help you seek justice for your loved one and hold the nursing home legally accountable.
To file a claim, you will need to gather evidence of the neglect. This can include medical records, eyewitness accounts, and photographs of the injuries. You should also contact an experienced attorney who can help you navigate the legal process and ensure that your rights are protected.
Damages in a nursing home injury or death claim may include:
Medical expenses

Pain and suffering

Mental anguish

Loss of enjoyment of life

Funeral and burial expenses (in a wrongful death claim)
Contact Our Chicago Nursing Home Neglect Lawyer
If your elderly loved one has been the victim of nursing home neglect, you may be entitled to compensation. The experienced Chicago nursing home injury attorneys at Winters Salzetta O'Brien & Richardson, LLC can help you understand your legal options and take action to hold the negligent parties responsible. To schedule a free consultation with our team, call 312-236-6324.
Source:
https://www.ilga.gov/legislation/ilcs/ilcs5.asp?ActID=1225&ChapterID=21