Scaffolding Failures Pose Major Hazards to Illinois Construction Workers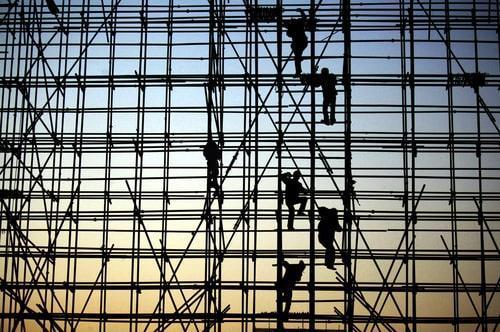 Scaffolding is essential at many construction sites for building and renovation. Well-constructed scaffolding allows painters, maintenance workers, window cleaners, and construction workers to reach high places safely and do their jobs on a stable walkway. In any given year, the Department of Labor has estimated that over 2 million workers use scaffolds, an enormous number that makes proper scaffolding use extremely important.
Unfortunately, scaffolding mistakes can lead to severe injuries and even death. Scaffold use or erection errors cause thousands of injuries every year, and approximately 25 percent of fatal falls happen on scaffolding. Accidents involving scaffolds take an incalculable toll on the victims and their families. If you or a loved one has been injured or killed in a scaffolding construction accident, a personal injury attorney may be able to help you obtain financial compensation.
What Are Common Causes of Scaffolding Injuries?
The vast majority of scaffolding accidents are caused by one of the following circumstances:
Tripping, slipping, or falling on a scaffold because of missing guardrails or slippery walkways

Objects falling from above and hitting people working on a scaffold

Errors in assembly or malfunctioning equipment, causing scaffolding support or walkways to come apart or fall off

Inclement weather

Hazardous substances on the walkway

Overloaded and collapsed scaffolding

Electrocution from nearby power lines

Insufficient fall protections
The risks and hazards of scaffolding use have been well known for decades. These safety hazards can mostly be prevented with proper training, planning, inspections, and implementation of other OSHA scaffolding safety regulations.
What are Common Scaffolding Injuries?
Because scaffolding is used to reach high places, scaffolding accidents often cause severe or fatal injuries. Spinal cord injuries, traumatic brain injuries, broken bones, internal bleeding, cuts, and severe bruising are all common. Some workers suffer from lifelong paralysis or limb amputation. The most serious injuries usually happen to workers on or under scaffolding, but they can also happen to civilians walking underneath scaffolding placed on public walkways.
Workers' compensation is generally available to construction workers involved in scaffolding accidents, but sometimes third-party equipment manufacturers or other third-party contractors whose workers caused the accident may be held liable.
Meet With a Cook County Construction Accidents Attorney
If you or someone you love has been injured or killed in a construction accident involving improper use or erection of scaffolding, you may be able to pursue financial damages. At Winters Salzetta O'Brien & Richardson, LLC, we will handle your case with the sensitivity and compassion it deserves and will fight tenaciously in court for your rights and to help prevent such an accident from happening again. Contact our downtown office to schedule a free consultation with a Chicago, IL personal injury attorney today. Call us at 312-236-6324.
Sources:
https://www.oshatraining.com/osha-training-requirements-scaffolding-construction.php
https://www.ilga.gov/legislation/ilcs/ilcs4.asp?DocName=073500050HArt%2E+XIII+Pt%2E+2&ActID=2017&ChapterID=56&SeqStart=102300000&SeqEnd=105700000