The Benefits of Medical Marijuana for Injuries With Chronic Pain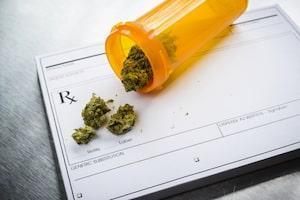 A personal injury can have a wide variety of long-term effects on a person's health and well-being, and one of the most serious issues victims may experience is chronic pain. Severe injuries involving brain trauma, damage to the spine, nerve damage, amputation, or other debilitating conditions can lead to long-lasting problems as victims struggle to deal with a high level of pain that greatly affects their lives, their comfort, and their ability to work and earn an income. However, many have found that medical marijuana provides a solution that allows them to manage this pain as they work to return to normalcy.
Benefits of Using Medicinal Marijuana
Many people are hesitant to consider marijuana as a medical solution because of its perception as a recreational drug. The federal government in the United States classifies marijuana as a Schedule I drug, which signifies that it has a high potential for abuse and little medical value. However, research in recent years has found that marijuana has a wide variety of medical benefits, and this has led to it being legalized for medicinal use in more than half of the states in the U.S., including Illinois. An increasing number of states have legalized marijuana for recreational use as well.
There are a large number of active chemical components in marijuana, including tetrahydrocannabinol (THC), which provides the "high" that people seek when using marijuana recreationally, and cannabidiol (CBD), which provides medical benefits, including relieving pain and serving as a muscle relaxant. Many strains of medical marijuana provide CBD while containing little or no THC, allowing patients to treat their conditions without experiencing mind-altering effects.
Medical marijuana has been found to be an excellent way to manage symptoms by providing relief for chronic pain without negative side effects. This makes marijuana an excellent alternative to the opioids that are often prescribed for those with high levels of pain, since these drugs can be very addictive and often have sedative effects, inhibiting patients' ability to resume normal functions. Marijuana can also be used by those who are unable to take painkillers such as Advil or Aleve due to kidney or gastrointestinal problems. In addition, marijuana can provide benefits for patients who are experiencing anxiety, post-traumatic stress disorder (PTSD), or insomnia.
Contact a Chicago Personal Injury Lawyer
The attorneys of Winters Salzetta O'Brien & Richardson, LLC have worked with many clients who have experienced debilitating personal injuries that caused them chronic pain, and we have seen the benefits that medical marijuana can provide. In one nursing home negligence case involving injuries that resulted in the amputation of a patient's leg, our client was able to use medical marijuana as an alternative to prescription drugs to treat phantom pain and prosthetic discomfort. We helped this client receive a settlement of $3.25 million.
The use of medical marijuana will not affect your ability to recover compensation from the party or parties who were liable for your injuries. If you want to learn more about how our Cook County personal injury attorneys can help you receive the compensation you deserve, contact us at 312-236-6324 to schedule your free consultation.
Sources:
https://www.webmd.com/a-to-z-guides/medical-marijuana-faq
https://inhalemd.com/massachusetts-medical-cannabis-guide/what-are-the-health-benefits-of-medical-marijuana/
https://www.health.harvard.edu/blog/medical-marijuana-2018011513085