Types of Elder Abuse and Signs to Look For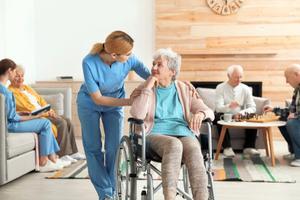 When you move your loved one to a nursing home, rehabilitation center, or other elder care facility, you are expecting them to receive the physical, emotional, and mental support that they need if they cannot live on their own. You put your trust in the staff that they will keep them safe and well looked after. Unfortunately, the diminished physical or mental state that led to their move in the first place makes them vulnerable to various types of abuse. It is good to know the common types of nursing home abuse and neglect and what some of the signs that you can look for.
Keeping Our Elderly Loved Ones Safe
Elder abuse can come in many forms, each of which can be physically, emotionally, and mentally harmful. Common types of elder abuse include:
Neglect – This includes failing to provide residents with their basic daily needs, including food, water, medical care, clean clothing, and other basic hygienic needs.
Physical abuse – Nursing home residents may be subject to physical abuse including hitting, pushing, slapping, or being restrained against their will. With older and more frail bodies, this type of physical abuse can lead to serious injuries, impairment, distress, and even death.
Sexual abuse – Facility residents can be vulnerable to unwanted physical abuse including nonconsensual sexual contact and sexual acts or verbal abuse including sexual harassment.
Emotional or Psychological Abuse – Through threats, disrespect, and humiliation, the care staff may inflict distress, fear, sadness, and other types of emotional or psychological trauma on residents. They can also physically isolate individuals from others in the facility.
There are certain signs that you can look for, both physical and emotional, that may be a sign that your loved one has been a victim of elder abuse, even if they are too ashamed, scared, or physically unable to tell you directly. Physical signs to look for include malnutrition or dehydration, rapid weight loss or weight gain, bed sores or other pressure sores, and unexpected and sudden bruises, broken bones, or other injuries. You may observe behavioral changes as well, including sudden mood shifts, becoming emotionally withdrawn, depression, and no longer enjoying things that they once did. If you ask the staff about your concerns and they do not provide a satisfactory explanation, evade the question, or turn the accusation back on your loved one, this could be another sign that some form of elder abuse is taking place.
Trust a Chicago Nursing Home Abuse Attorney
If you are seeing signs that your loved one is suffering abuse in a nursing home, you can trust the Chicago nursing home neglect and abuse lawyers at Winters Salzetta O'Brien & Richardson, LLC. We know how important it is to keep our elderly loved ones in a safe and healthy environment. We will explore your legal options and take steps to hold the elder care facility or other parties responsible. Call us today to schedule a free, confidential consultation at 312-236-6324.
Source:
https://www.cdc.gov/violenceprevention/elderabuse/fastfact.html