What Steps Should Truck Drivers Take to Prevent Winter Truck Accidents?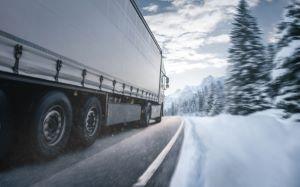 The winter is one of the most dangerous times of the year to be on the road. Winter weather can lead to snow and ice on the roadway, as well as reduced visibility, increasing the risk that drivers will lose control of their vehicles. Even in clear weather, low temperatures can lead to safety issues, such as "black ice" that may not be noticeable until it causes a vehicle to lose traction. These safety concerns can affect commercial trucks even more than other vehicles, since due to the large size and weight of tractor-trailer trucks, they require more time and distance to come to a stop, and winter weather conditions can cause a truck driver to lose control of their vehicle. To prevent truck accidents, drivers should be sure to follow the proper safety procedures during the winter.
Commercial Truck Safety in the Winter
While truck drivers should take care to drive safely at all times, they will need to take additional measures to ensure that they can operate their vehicles correctly and avoid collisions during the winter. These measures include:
Performing pre-trip inspections - A truck's systems should be inspected closely to identify and address any safety issues before beginning a delivery trip. Drivers should ensure that tires are properly inflated and can provide enough traction, that brakes and trailer couplings are functioning correctly, that antifreeze and coolant levels are topped up, and that windshield wipers and defrosters are working properly,

Preparing for winter road conditions - Drivers should be aware of weather conditions on their planned routes. If necessary, they should find alternate, safer routes, and they should have all tools and equipment that may be needed, such as tire chains.

Using extreme caution in winter weather - Because truck drivers are much more likely to lose control of their vehicle when driving in winter conditions, they should take extra care to drive safely. This includes driving at slower speeds, increasing the space between a truck and other vehicles, allowing for more distance to slow down and stop, and avoiding sudden movements or braking. If weather conditions become too hazardous to operate a truck safely, drivers should be prepared to stop in a safe place and wait for conditions to improve.

Avoiding distractions - Distracted driving is dangerous at any time, but it can be especially problematic during the winter. If a truck driver is not fully paying attention to the road, they may be unable to react in time to changing weather conditions or other vehicles that lose control on the roads. Drivers should avoid the use of cell phones while driving, and they should be sure to minimize distractions from radios, GPS systems, or electronic logging devices.
Contact Our Cook County Truck Accident Attorneys
If you have been injured in a truck accident during the winter, the lawyers of Winters Salzetta O'Brien & Richardson, LLC can help determine whether the collision occurred because of a truck driver's or trucking company's negligence. We have helped many clients recover compensation for these types of accidents, including one case in which we obtained a $1.9 million settlement for the family of a man who was killed after being rear-ended by a semi-trailer truck on I-294. Contact our Chicago personal injury lawyers and arrange a free consultation by calling our office at 312-236-6324.
Sources:
https://www.chevinfleet.com/us/news/winter-driving-tips-for-truck-drivers/
https://www.smart-trucking.com/driving-in-snow/