Who Is Responsible for Workplace Electrocution Injuries?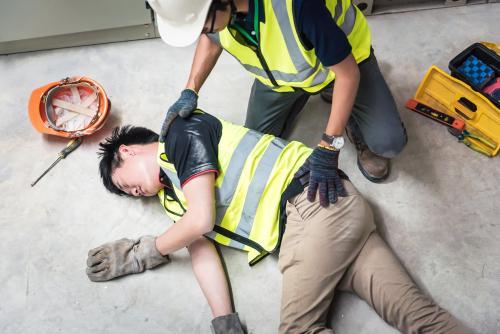 Electric shocks can cause devastating injuries, and people in certain occupations are at a higher risk of being electrocuted. In fact, electrocution is the sixth most common cause of workplace fatalities in the United States, and 54% of the deaths caused by electrocution are suffered by workers in the construction industry. If you have experienced an electrocution injury while working, you should be sure to understand your legal options for recovering compensation.
Effects of Electrocution
The injuries that occur when electricity flows through the body can vary depending on the type and amount of electrical current and the parts of the body affected. Some common injuries include:
Severe burns on the body parts which came into contact with electricity and which touched the ground.

Damage to internal organs, which can lead to difficulty breathing or cardiac arrest.

Damage to the brain, spinal cord, or nervous system, which can lead to seizures, paralysis, loss of consciousness, confusion, or problems with hearing or speech.

Severe muscle contraction, which can cause broken bones.

Fall injuries which occurred after being electrocuted, such as traumatic brain injuries, spinal cord injuries, broken bones, or dislocated joints.
Causes of Electrocution
There are many forms of negligence which can lead to electrocution injuries in the workplace, including:
An employer did not provide the proper safety equipment or training.

A subcontractor did not follow the proper safety procedures. For example, a person may be electrocuted if machinery was not properly shut off and locked out while it was undergoing maintenance.

A property or building owner did not keep electrical wiring up to code.

A city or county did not properly mark the location of underground wires, leading to electrocution during excavation.
In most cases, a person who suffers an electrocution injury while working will be eligible to receive workers' compensation benefits, regardless of who was at fault for the injury. However, workers may also be able to recover compensation from any third parties who were at fault by filing a personal injury lawsuit. These third parties may include a subcontractor who acted negligently, a property owner who did not maintain a safe premises, a city that did not properly mark electrical wires, or the manufacturer of defective tools or equipment.
Contact a Chicago Workplace Injury Lawyer
The attorneys of Winters Salzetta O'Brien & Richardson, LLC are experienced in helping employees recover compensation for injuries suffered while on the job. We have obtained many multi-million dollar verdicts and settlements for our clients, including $1.3 million for an electrician who experienced multiple fractures after falling 40 feet from an elevated platform.
If you or a member of your family have suffered a workplace electrocution injury, contact our Cook County personal injury attorneys today at 312-236-6324 to schedule a free consultation. We will work with you to help you understand your options for receiving the financial compensation you deserve.
Sources:
https://www.webmd.com/a-to-z-guides/electric-shock#1
https://www.mayoclinic.org/first-aid/first-aid-electrical-shock/basics/art-20056695
https://www.esfi.org/resource/workplace-fatalities-and-injuries-2003-2017-692