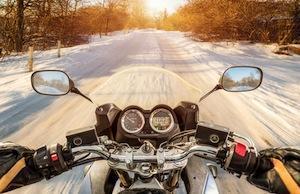 Motorcyclists face serious risks whenever they use the road, since they are much more likely to be seriously injured in a motorcycle accident than the drivers or passengers of other vehicles. These risks increase substantially during the winter, since cold-weather conditions not only make motorcycles and other vehicles more difficult to control, but visibility is also often limited, increasing the chances that drivers will fail to see motorcycles and be unable to avoid a collision.
Winter Motorcycle Safety Tips
While it is often impossible to avoid a collision caused by a negligent driver, motorcyclists can take some precautions that will increase their safety on the road:
Use the proper equipment - No matter the time of year, wearing a helmet can help avoid serious brain injuries in a crash. During the winter, a helmet with full-face protection ensures that you will have full visibility, even when snow is falling and strong winds are blowing. Wearing warm clothing, including heavy-duty boots, pants, jacket, and gloves, can provide additional protection against cold temperatures.
Winterize your motorcycle - Make sure your bike is in good working order. Use fresh antifreeze and check the engine hoses, brakes, and tire pressure.
Drive slowly - Snow and ice on the road make it more difficult to stop or turn. In addition, cold temperatures reduce the traction on your tires. Slowing down and giving yourself extra room to maneuver can help you avoid accidents.
Increase distance from other vehicles - Cold weather conditions affect other drivers as well, and cars and trucks have difficulty slowing down or turning on snowy or icy roads, which may cause them to be unable to avoid colliding with a motorcycle. Avoid following other vehicles too closely, and try to maintain a safe distance in all directions, providing yourself with room to maneuver if necessary.
Watch for dangerous road conditions - Winter weather can cause damage to the roads, so it is important to be aware of potential dangers. Watch out for cracks and potholes, as well as black ice, and take steps to negotiate these hazards safely.
Contact a DuPage County Personal Injury Attorney
The attorneys of Winters Salzetta O'Brien & Richardson, LLC understand the dangers motorcyclists face and the harm they can suffer at the hands of negligent drivers. We work with victims and their families to help them recover the full and fair compensation they deserve. In one case, we secured a $757,867 verdict for the family of a man in Kane County who was killed in a crash after two drivers stopped their vehicles in the middle of the road to talk with each other. If you want to know more about how we can help, contact our office today at 312-236-6324 to schedule a free consultation with a Chicago motorcycle accident lawyer.
...